The big news for the upcoming cruise season is that small ship cruising will be available in larger quanity than the last few years with the demise of Cruise West. American Cruise Line and Alaska Dream Cruises will provide the up close and personal small ship experience with refurbished ships, great itineraries and high quality product.

The Disney Wonder will take families on an Alaska Adventure with Mickey, Minnie, Donald & Goofy from Vancouver this year. Oceania, a premium plus line that gets rave reviews from passengers will provide a great mid sized ship experience for those who like the 600-700 passenger size..

Other cruise lines, all of which have scheduled a full season of spring-summer-fall cruises, are Crystal Cruises (vessel Crystal Symphony, 922 guests), InnerSea Discoveries/American Safaris Wilderness Adventurer (66) and Wilderness Discoverer (80).

Thirty-nine ships representing 15 different cruiselines will ply the waters of Alaska's Inside Passage and beyond.

Basically, Alaska cruise visitors can choose among hundreds of cruises in four basic categories.

First there's the traditional seven-night roundtrip "Inside Passage" voyage from Vancouver or Seattle to Southeastern Alaska and back. (Four lines offer two-week expanded roundtrips or open-jaw itineraries to Southeast and Southcentral Alaska and return. A smaller number of roundtrips or open-jaw variations, are likewise available from San Francisco, Los Angeles, San Diego and other west coast ports.

Popular as well are weeklong one-way "Gulf and Glaciers" cruises between Vancouver and Southcentral Alaska ports Seward or Whittier.

Other lines (primarily small-ship companies) will sail trips entirely within Southeast or Southcentral Alaska, some of them visiting Glacier Bay, Prince William Sound or Tracy Arm fiord with its twin Sawyer glaciers.

Finally, there is the "Expedition Voyage" that may, for example,explore the Aleutian Islands chain, sub-Arctic and Arctic regions, or even ports of the Russian far-east.
Following is an Alaska cruise preview

Celebrity Cruises
The company has scheduled three vessels – Celebrity Infinity (1,950 guests ), Celebrity Mercury (1,870), and Celebrity Millennium (1,950) – for cruising Alaska.

Celebrity Millennium will inaugurate the cruiseline's first sailing of the season with a 14-night, 15-day Ultimate Alaska voyage departing San Diego on April 30 and visiting Seattle, Sitka, Hubbard Glacier, Skagway, Juneau, Icy Strait Point, Tracy Arm Fiord, Ketchikan, Victoria, and Vancouver. Core season for the vessel will be seven-night, eight-day voyages between Vancouver heading north starting May 14 and south from Seward beginning May 21. Last sailing for the season departs September 10 from Seward.

Celebrity Mercury will sail seven-night, eight-day roundtrip cruises after kicking off its season May 5 with a 12-night, 13-day "Ultimate Alaska" roundtrip from Los Angeles to Southeast Alaska and return followed by another "Ultimate Alaska" voyage departing May 17 from Los Angeles and ending in Vancouver. Core of Celebrity Mercury's summer season begins May 30 with the first of 16 seven-night, eight-day sailings from Vancouver. Highlight of the itinerary will be cruising the six-mile, 300-feet-high face of awesome Hubbard Glacier. Season closer will be a 12-night, 13-day sailing September 19, Vancouver to Alaska then San Francisco and San Diego.

Celebrity Infinity's season begins with a May 10 departure from San Francisco for an 11-night, 12-day voyage to Ketchikan, Juneau, Skagway, Icy Strait Point, and Sitka with journey's end in Seattle. The vessel will then offer 18 seven-night, eight-day roundtrips to Ketchikan, Juneau, and Skagway plus Tracy Arm for glacier cruising and a port call at Victoria, B.C.




Holland America Line Holland America Line will introduce a new 14-night, 15-day "Alaskan Adventurer" cruise in 2011 to complement its seven-night, eight-day itineraries. The new offering expands Holland America itineraries to four, joining "Alaskan Explorer," "Glacier Discovery" and "Glacier Bay Inside Passage." The company will dispatch 8 ships to Alaska – the most for any company cruising Alaska.

The 1,380-guest Amsterdam's leisurely two-week itinerary features the scenic Inside Passage, highlighted by cruising Tracy Arm fjord for glacier viewing, then huge and spectacular Hubbard Glacier in Yakutat Bay. Ports of call include Ketchikan, Skagway, Sitka, Anchorage, Homer, Kodiak, Juneau and Victoria, BC.

Four ships will home-port in Seattle sailing 63 seven-night, eight-day roundtrip "Alaskan Explorer" cruises. Before shiftng to the new two-week itinerary, HAL's flagship Amsterdam opens the company's season with two seven-night, eight-day "Alaskan Explorer" sailings May 3 and May 10.

May 9 through September 24, three additional vessels will embark from Seattle weekly. They are 1,432-guest Zaandam, 1,316-guest Rotterdam, and 1,918-guest Oosterdam. "Alaskan Explorer" cruises call at Juneau, Sitka and Ketchikan, plus Victoria, BC.

Four ships will home-port in Vancouver, two of them sailing seven night, eight -day "Glacier Bay Inside Passage" roundtrips. The 1,432-guest Volendam and 1,916-guest Zuiderdam will sail 39 voyages May 8 through September 18 visiting Juneau, Skagway, Ketchikan, Glacier Bay National Park and Tracy Arm fjord.

The 1,270-guest Ryndam and 1,258-guest Statendam will sail 36 seven-night, eight-day "Glacier Discovery" cruises north or south between Vancouver and Seward May 9 through September 12. The itinerary features Ketchikan, Juneau, Skagway or Haines, Glacier Bay National Park and College Fjord in Prince William Sound.

Ryndam and Statendam also will offer two more Inside Passage sailings – with port and glacier variations – September 12 and 19 to conclude the season.



Norwegian Cruiseline
NCL will operate two vessels in Alaska: Norwegian Jewel (2,244 guests) and Norwegian Pearl (2,394) will sail seven-night/eight-day "Inside Passage Sawyer Glacier" and "Glacier Bay" cruises in 2010, mostly roundtrips from Seattle. The company's season starter, however, will be a May 1 Norwegian Star open-jaw voyage from Los Angeles to Alaska ports and sites with return to Vancouver, B.C. Following another open-jaw trip starting May 8, Vancouver to Alaska to Seattle, the ship's core sailings will offer weekly roundtrip departures from the Washington state port. Port calls and viewing sites include Ketchikan, Juneau, cruising Tracy Arm and Sawyer Glacier, Skagway, Prince Rupert, B.C., and return to Seattle.

The Norwegian Pearl inaugurates its season with a series of Glacier Bay sailings scheduled to depart Seattle weekly from May 9 through September 12. Itinerary includes Juneau, Skagway, Glacier Bay cruising, Ketchikan, Victoria, B.C. and return to Seattle.



Princess Cruises
This line has scheduled seven vessels offering a total of four itinerary options between May and September. Two ships, Golden Princess (2,600 guests) and Sapphire Princess (2,670), will sail 37 weeklong "Inside Passage From Seattle" voyages. Port calls and scenic viewing sites include Ketchikan, Juneau, Skagway, and Victoria, B.C. plus Glacier Bay National Park or Tracy Arm fjord with Sawyer Glacier.

Three ships, Diamond Princess (2,670), Coral Princess (1,970), and Island Princess (1,970), will feature 54 weekly sailings along the line's "Voyage of the Glaciers" route between Vancouver, B.C. and Whittier, Alaska. Port calls and scenic viewings include Ketchikan, Juneau, Skagway, Glacier Bay National Park, and 16 glaciers of College Fjord in Prince William Sound (or Hubbard Glacier southbound).

Sea Princess (1,990) returns to San Francisco for 13 nine-night/10-day voyages through the Inside Passage to Glacier Bay National Park visiting Victoria, B.C, Juneau, Ketchikan, and, depending on voyage, either Skagway, Haines, or Icy Strait Point.

The cruiseline's smaller and more intimate Royal Princess (680 guests), has scheduled eight 13-night "Connoisseur" trips from Seattle. Itinerary includes some of the Big State's smaller and less visited ports including Kodiak, Icy Strait Point, and Seward plus Ketchikan, Juneau, Skagway, and Victoria along with cruising in Glacier Bay and Tracy Arm.



Royal Caribbean International
RCI has scheduled two ships and 37 sailings for the season. They include seven- to 14-night itineraries aboard Radiance of the Seas (2,100 guests) and Rhapsody of the Seas (2,000). Guests may choose departures from San Diego, Seattle, Seward, or Vancouver, B.C.

Alternating north- and south-bound on seven-night itineraries between Seward and Vancouver every Friday, Radiance of the Seas will call at four Alaskan ports – Ketchikan, Juneau, Skagway and Icy Strait Point which is the only wilderness port in Alaska. Guests also will visit Hubbard Glacier, an astounding ice river six miles wide and 300 feet high. Radiance of the Seas also will offer two special "Ultimate Alaska" itineraries: a 13-night open-jaw cruise from San Diego on May 8 northbound to Alaska then southbound to Vancouver as well as a 14-night voyage sailing in the reverse direction on September 10.

Rhapsody of the Seas will offer a seven-night roundtrip itinerary, sailing from Seattle and plying the Inside Passage with calls at Alaska's Juneau and Skagway, as well as Victoria, British Columbia. Highlights will include a cruise through the 32-mile Tracy Arm Fjord, with its narrow walls rising more than 8,000 feet high en route to Sawyer Glacier, whose glacier face rises approximately 200 feet.

Carnival Cruiselines
The world's largest cruiseline has announced that for the first time ever the company has scheduled its Alaska-bound vessel Carnival Miracle (2,124 guests) for Seattle departures on all but two of its Inside Passage weeklong round trips to Southeast Alaska. Ports of call and cruising areas include Skagway, Juneau, and Ketchikan plus cruising Tracy Arm Fiord with twin Sawyer Glaciers.

The two exceptions are the line's first and last voyages of the season: A five-night/six-day open-jaw sailing departs May 5 from Vancouver, B.C., sails to and through Southeast Alaska then ends in Seattle. A six-night seven-day season closer departs from Seattle September 7 sailing to Southeast Alaska, including Glacier Bay, then concludes the voyage at Vancouver.

Mid-Size Luxury Cruise Ships

Regent Seven Seas Cruises This company has scheduled one vessel, the luxury-class Seven Seas Mariner (700 guests) for 12 Alaska cruises in 2010. The 14-night season opener from San Francisco on May 26 offers port stops at Astoria, OR, Ketchikan, Juneau, Skagway, Valdez, Sitka, and Victoria with journey's end at Vancouver. In addition there's glacier viewing along the way at Tracy Arm fiord in Tongass National Forest and at Hubbard Glacier. Next departure is a single seven-night round trip departing from Vancouver June 9 to Ketchikan, Tracy Arm for glacier viewing, Juneau, Skagway, Wrangell, and return to Vancouver.

For the balance of the season the Seven Seas Mariner sails 10 seven-night voyages north or south between Vancouver and Seward taking in Ketchikan, Tracy Arm, Juneau, Skagway, Sitka, and Hubbard Glacier. Last sailing for the season departs Seward August 18.



Silversea Cruises
This line will similarly dispatch a luxury class vessel, Silver Shadow (382 guests), for a varied 14-voyage season of Alaska itineraries including an open-jaw season opener May 13 from Los Angeles to Southeast Alaska to Vancouver in 12 nights. Then follows a variety of choices including four roundtrips Vancouver to Alaska to Vancouver in nine nights; six one-way journeys north or south between Vancouver and Seward in seven nights; a roundtrip from San Francisco in 12 nights, and an open-jaw from San Francisco to Vancouver in 10 nights. Last roundtrip from Vancouver for the season will depart September 3.

Depending on voyage, Silver Shadow's port visits and viewing areas during its core and "shoulder" seasons will include Haines, Hubbard Glacier, Juneau, Ketchikan, Prince Rupert, B.C., Sitka, Skagway, Tracy Arm fiord/Sawyer Glacier, Wrangell, and Victoria. And here's a special note for travelers who yearn for an Alaska-Asian cruise experience. They may board the ship in Vancouver on September 12 for a 15-night international itinerary that takes in Ketchikan, Juneau, Skagway, Kodiak, Dutch Harbor, Petropavlosk (Kamchatka), Russia, and Japan's Hakodate, Sendai, and Tokyo.



Small Cruise Vessels

All Aboard Yacht Charters

The name says "Charters" but in Alaska you book passage aboard the yacht Discovery (10 guests) just like you would any other cruiseship in the Alaska trade. There is, however, this difference: The company's single vessel is a historic 1931-vintage yacht created in the rich classic tradition. For its Alaska deployment Discovery features seven-night Inside Passage cruises between Ketchikan and Juneau as well as roundtrip voyages from each of the two communities. There are, in addition, nine-night season opener and season closer trips May 1 and September 2.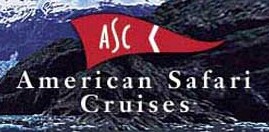 American Safari Cruises
Three luxury yacht vessels – Safari Explorer (36 guests), Safari Quest (22), Safari Spirit (12) – will cruise the waters of the northern Inside Passage again in 2010, sailing for two full days through world-class Glacier Bay National Park while viewing a near-endless array of pristine glaciers and sky-piercing mountains plus whales and other sea creatures in the water, birdlife beyond counting and – on both islands and the mainland – brown (grizzly) bears, black bears, mountain goats and moose. In subsequent days in the waters of Icy Strait and Frederick Sound passengers continue to view humpback whales, killer whales, porpoises, seals, sea lions, and sea otters.

Further cruising takes in Admiralty Island, huge portions of which comprise the Admiralty Island National Wilderness Area protecting the second largest concentration of brown bears in North America. Last major destination of the cruise is Endicott Arm and the fiord called "Ford's Terror." At the end of the waterway lies Dawes Glacier, a massive river of ice seen by a relatively small number of cruisers each year.



The Boat Company
The company emphasizes environmental awareness while offering programs out of Juneau that combine wildlife viewing on land and sea, shore excursions, fishing, and kayaking. The line's two vessels are Liseron (20 guests), a converted 1940s minesweeper that has been refurbished to decidedly upscale standards and Mist Cove (24), an equally upscale replica.

Both vessels operate seven-night voyages between Sitka and Juneau and cruisers are provided hotel accommodations on Saturday nights before each embarkation plus transport to the vessel Sunday mornings. Features of the trip include guided hiking, kayaking, and fishing, all meals and snacks prepared by a gourmet chef, wines with dinner, and an open bar.

For fishers, the crew will clean and pack salmon, halibut, and other species for shipment home.



Discovery Voyages

The line's single ship Discovery,is a refurbished missionary vessel now comfortably accommodating 12 guests. It offers a wide variety of Prince William Sound options which feature whale and wildlife watching, birding, hiking, kayaking, photography, and glacier viewing.

These trips vary from four nights/five days or more aboard the Discovery (with two nights B&B in Anchorage) to extensive sailing options that also include land-based guided wildlife tours of Denali National Park. Season opener May 3 will be a 12-night birding, wildlife and water experience that includes four nights based in Cordova. Final offering of the year will be a September 13 seven-night whale-watching voyage.



Lindblad Expeditions

Two vessels, National Geographic Sea Lion and National Geographic Sea Bird (62 passengers each) will return to Alaska in 2010 with passenger-pleasing cruise options the line has offered for years. The season opens with 11-night/12-day northbound positioning cruises (called "Alaska, British Columbia, and San Juan Islands" on April 27 or 28 (depending on vessel) and closes with departures southbound September 4 or 6, again depending on ship. The cruise extensively explores the Inside Passage between Seattle and Juneau.

The company's season-long staple is a seven-night one-way cruise between Juneau and Sitka called "Alaska's Coastal Wilderness." The weekly journeys (with National Geographic Sea Lion sailing one direction, National Geographic Sea Bird cruising the other) feature Tracy Arm fjord and twin Sawyer glaciers, Petersburg, whale watching in Frederick Sound and Chatham Strait, Point Adolphus, and Inian Pass plus cruising a full day in Glacier Bay National Park. Activities on all cruises include kayaking among icebergs, beach hikes, and listening to actual below-the-surface "whale songs" on the ships' hydrophones.



Maple Leaf Adventures
The company's vessel Maple Leaf generally accommodates eight guests and offers something unique among lines operating in the Alaska cruise trade: The ship is an authentic "tall ship" sailing schooner more than a century old.

In 2010 the vessel will make two one-way Alaska voyages (under sail whenever possible) departing northbound or southbound between Prince Rupert, B.C. and Sitka, Alaska's history-laden last headquarters of "Russian America" and the first capital community of the then-District of Alaska, USA. First voyage will depart Prince Rupert June 14 with journey's end in Sitka June 25. Reverse trip will leave Sitka June 25 with arrival in Prince Rupert July 6.

On these voyages passengers sail between towering fjord walls, pick their way through iceberg-laden waters to the face of glistening blue glaciers, soak luxuriously in natural hot springs, explore coastal island shores by zodiac or kayak, hike beaches, and trek through ancient forests. Each trip ends or begins with a guided trip of Sitka.



Cruising by Ferry

ALASKA MARINE HIGHWAY SYSTEM:
The State of Alaska will, in 2010, continue its operation of an extensive fleet of 11 large and small passenger and vehicle ships serving Southeast, Southcentral, and even (in summer) Aleutian Islands communities. The vessels range from the 931-passenger Columbia (serving Southeastern Alaska, Southcentral, and even Bellingham, Washington) to the 149-passenger Lituya which operates between Ketchikan and nearby Metlakatla.

In between are the Southeast-based ferries Malaspina (745 passengers), Matanuska (701), Taku (370), and Kennicott (748). The latter vessel also provides connecting voyages between Southeast and Southcentral Alaska. One ship, the Columbia, offers connections to Bellingham, WA. The ocean-going Tustumena (220) connects Kodiak with the Southcentral Alaska mainland and, in summer, with ports in the Aleutians.

Newest additions to the fleet are the speedy passenger and vehicle catamaran ferries Fairweather (250), serving Southeast Alaska and the Fairweather's sister ship Chenega, which operates from Cordova into Prince William Sound. Smaller ferries Aurora (300) and LeConte (300) provide service for locals and Alaska visitors from Southeast and Southcentral mainline ports to smaller towns and villages. The Alaska Marine Highway System accepts reservations for summer ferry trips starting in the preceding December of each year.

For so-it-yourself cruisers these ships provide comfortable, wide-ranging, modern vessels (most with staterooms) that open up areas for cruising that are not accessible by traditional cruiseships.



BC FERRIES:
The newly acquired (and extensively refurbished) passenger and vehicle ferry Northern Adventure (600 passengers, 101 vehicles) provides an alternative option for ferry travel from the "lower 48" U.S. states or from Canada to Southeast Alaska.

The 384-foot vessel sails north or south on alternate days in summer between Port Hardy at the northern end of highway-accessible Vancouver Island and the Canadian mainland port of Prince Rupert. This community is the turnaround port for many Alaska ferries serving Ketchikan and other cities in Southeast Alaska.



INTER-ISLAND FERRY AUTHORITY: The IFA operates two ferry vessels – the 200-passenger Stikine, which entered service in 2006, and the 160-passenger Prince of Wales that inaugurated IFA service between Prince of Wales Island and Ketchikan in 2002. For 2010 the Stikine will sail daily throughout the year between Ketchikan and Hollis on Prince of Wales Island.

Sprawling POW Island offers a prime and promising destination, especially for travelers seeking an "off the beaten path" experience. It is the second biggest island in Alaska and is largely uninhabited but boasts an extensive highway network of former logging roads. A number of small communities, lodges, fishing camps, and camping/RV sites are located there as well. Wildlife is abundant.
---